The Best Independent Grocers in NYC & a Summer Pea Recipe From Flynn McGarry
July 16, 2021
Every summer we're so inspired by the amazing produce in our favorite small grocery stores. Thanks to
Cool Friend Flynn McGarry
and the folks at Phaidon and
Fine Dining Lovers
, we've got a recipe for you to cook with your goodies too!
Russo's Mozzarella & Pasta
Park Slope & East Village
Russo's has the best fresh pasta, amazing deli sammies, and of coiuse house-made mozzzzz!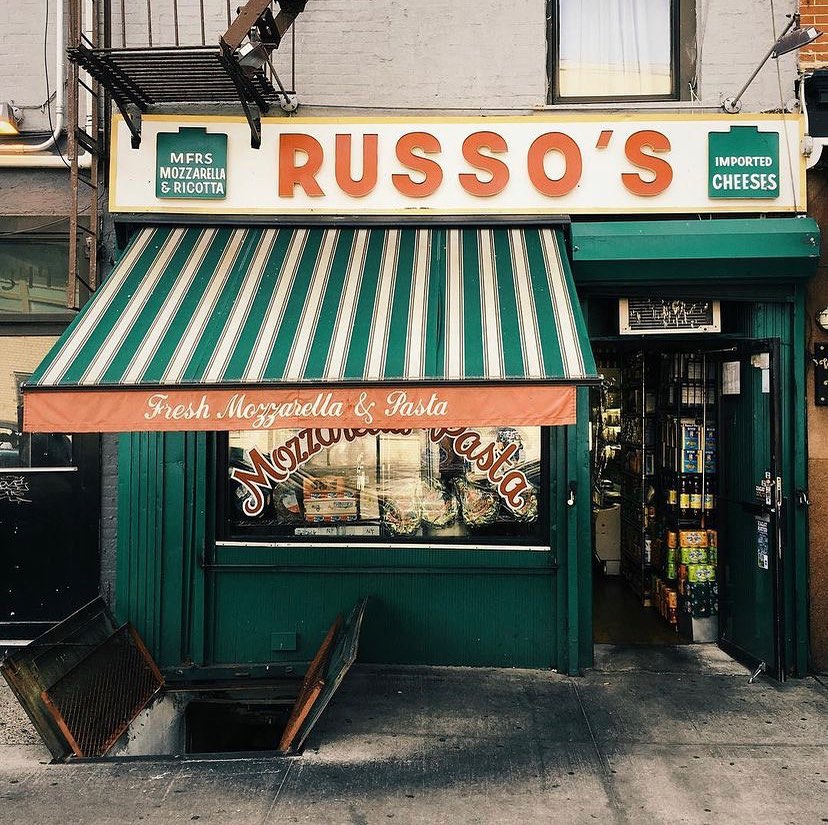 Photo: Russo's
Dimes Market
Dimes Square (DUH!)

We love stopping by Dimes Market whenever we're in the neighborhood for their curated selection of local soaps and all of the Dimes "mother sauces" -- p.s. get the Za'atar Hummus.
Photo: Dimes
Sahadi's
Brooklyn Heights

This Lebanese grocer was first founded in Manhattan in 1895, and yes while we
just
recommended you buy hummus from Dimes, you should really be sprinting here for the housemade spread. Sahadi's is a great spot for Mediterranean staples, fresh man'ouche, and bulk coffee.
Photo: Sahadi's
Alimentari Flâneur
Lower East Side
Head to the lower level of the Market Line in Essex Market and you'll be greeted by the fantastical displays of Daniel Emilio Soares' Alimentari. Focused on in-seaon vegetables from small farmers, this special market feels like it's plucked straight from the streets of a small southern European town.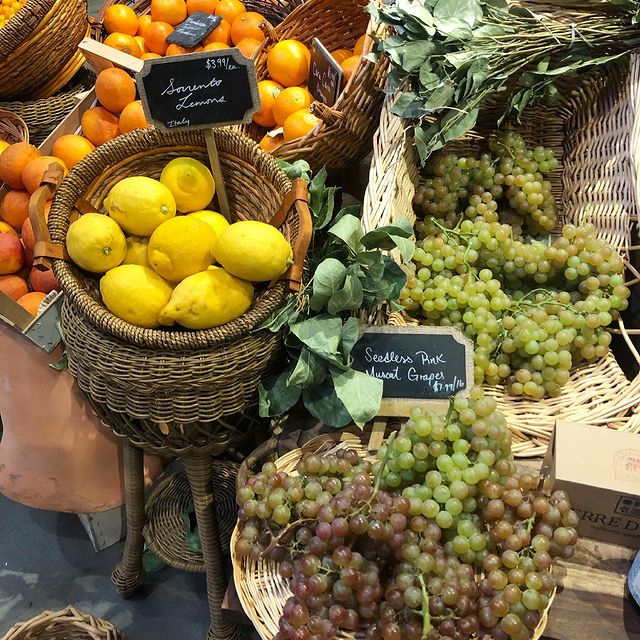 Foster Sundry
Bushwick
This market, coffee shop, and butcher hybrid is one of our favorite spots in Bushwick. The small but mighty storefront truly has everything you need for a great meal — down to the trendy olive oil.
Photo: Foster Sundry
Peas with Fresh Cheese and Lemon Verbana Oil
by Flynn McGarry
Serves 4


If you don't already know &&& love Flynn from our positively GLOWING Cool Friends interview from some months back, allow us to re-introduce him. Flynn is the chef and owner of Gem in the Lower East Side. His cooking has garnered critical acclaim and there is no better way to put Flynn's accomplishments better than Hugh Acheson (the chef, restauranteur, and Iron Chef Judge)



"Flynn was crowned as a prodigy of the culinary world at the age of twelve. Instead of falling under the weight of that expectation he put down his head, tossed away the crown he didn't ask for, and learned an incredible amount about food, beverage and hospitality"



Ingredients For the peas For the mussel stock
500 g mussels

250 g white wine

For the fresh cheese
250g whole milk

Salt

12.5g heavy cream

7g buttermilk

2g rennet

For the pea broth
Pea pods (reserved from shucking sugar snaps)

40g mussel stock (above)

3g lemon verbena

For the lemon verbena oil
100g neutral oil

30g lemon verbena

To finish
Lemon juice

Olive oil

Maldon sea salt

20 lemon thyme blossoms
Method
Make the peas

Shuck enough peas for 40 g per person and sort into large and small peas. Save the pods for the broth. You will need 80 g each of small and larger peas. In a pot of boiling water, blanch the large peas for 30 seconds. Shock in ice water. Reserve the small peas raw.
Make the mussel stock

Cover the mussels with wine and bring to a boil, simmer for 10 minutes, and strain.
Make the fresh cheese

In a saucepan, combine the milk and salt to 85°F (29°C). Stir in the cream and buttermilk. Add the rennet and pour into a container sitting in a 98°F (36°C) water bath. Let cook for 1 hour 20 minutes, then let cool.
Make the pea broth

Juice the pea pods in a juicer and strain. Weigh out 100 g of pea juice. Mix with the mussel stock. Blend the pea and mussel liquid with the lemon verbena and strain.
Make the lemon verbana oil

Blend the oil and verbena together until lightly smoking. Strain through a tea towel.
Finish!

Separately season the raw and cooked peas with lemon juice, olive oil, and salt. Scoop 20 g of raw peas and 20 g of cooked peas into each bowl, making sure they stay separate. Spoon over a large spoonful of pea broth and drizzle with some of the verbena oil. Scoop one small spoonful of cheese into the bowl and season with Maldon salt. Arrange the thyme flowers on top.
The recipes are courtesy of Fine Dining Lovers and Today's Special cookbook by Phaidon.Today's Special is available to purchase at:
www.phaidon.com/store/food-cook/todays-special-9781838661359/